DVR vs NVR, Which one of them is better?
When shopping for a security system, you will need to choose the type of system you want.  It matters a lot since it decides the cost, the installation, the best video quality you could expect. Learn more about the differences, benefits, and features of both in this article.
DVR & NVR What are they?
Both DVR and NVR are responsible for video recording and storing. DVR stands for Digital Video Recorder and NVR stands for Network Video Recorder. The main difference between DVR and NVR is how they process video data. DVR systems take video data directly from cameras and then process it for recording. NVR systems do not process video, but simply store video that IP cameras streams to the NVR. In a simpler way, DVR systems process the video data at the recorder, and NVR systems encode and process the video data at the camera, then stream it to NVR for remote viewing and storage. Because of the different way DVR and NVR handle and process the video data, they require different type of cameras and cables. Most NVR are used with IP cameras and Ethernet Cables, and DVR are used with HD cameras and coaxial cables.
Pros & Cons
Both NVR and DVR are both great options for surveillance camera system. The most influential factor will be cable management. Each camera have two cables, one for power and one for audio and video. And if the monitoring place is out of reach of the cable, it could be more difficult. In this situation, NVR is a better option. Moreover, NVR cameras generally have a better recording quality than DVR cameras even though technology has improved for DVR cameras. Generally, NVR has a higher cost than DVR but with more The image below shows a more detailed pros and cons for DVR and NVR.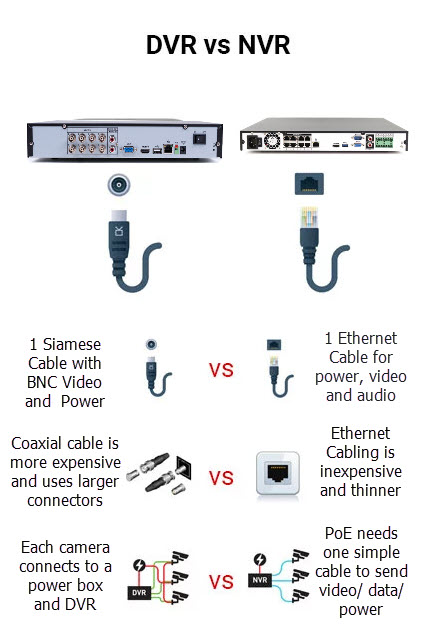 In Summary
Both systems record video data and are reliable. The difference between DVR and NVR systems come down to the cost, how the data is transmitted, and type of cameras. NVR systems tend to have better picture quality, as well as easier installation and increased flexibility. However, NVR systems also tend to be quite a bit more expensive than comparable DVR systems, which is an important consideration for the budget conscious consumer. If your property is already wired for a coaxial cable from an existing security system, a DVR system will most likely be sufficient. If you need a top of the line, very flexible solution, an NVR based system will be best. At the end of the day, the deciding factor will be based on the specific security needs of your property.